Tiny Johnny is the first part of the 116th episode and the 231st episode overall. This episode premiered on December 25th, 2014.
Synopsis
Johnny and Dukey attempt to catch Montague (because he's stealing things from the Test family and chewing on nearly anything including the lab wires) and Susan and Mary decide to make them as tiny as him in order to do so.
Trivia
Goofs
Gallery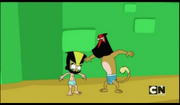 Ad blocker interference detected!
Wikia is a free-to-use site that makes money from advertising. We have a modified experience for viewers using ad blockers

Wikia is not accessible if you've made further modifications. Remove the custom ad blocker rule(s) and the page will load as expected.