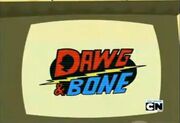 The Dawg and Bone Show is a parody of the series itself. It's about a boy named Dawg, his dog named Bone, and his twin genius brothers who go on adventures, such as zombie hunting. This is a squash and stretch cartoon so no matter how many times they are hit, it won't hurt them.
Characters
Trivia/Notes
Gallery
Ad blocker interference detected!
Wikia is a free-to-use site that makes money from advertising. We have a modified experience for viewers using ad blockers

Wikia is not accessible if you've made further modifications. Remove the custom ad blocker rule(s) and the page will load as expected.