"We've got to save the world!" – Johnny X

This page is about the real world.
"Just like this Tiny'Mon, this page is tiny!" – Blast Ketchup

This page is a stub. It needs to be expanded immediatley!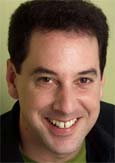 Louis Chirillo (March 20, 1961, in Seattle, Washington) is an American voice actor.
He is best known for playing Dukey, Brain Freezer, and Mr. Henry Teacherman on Johnny Test, and also for portraying Keefe in Zoids: Fuzors. He also voices Shaman, in Pucca.
Now Chirillo has retired from voice acting and moved to Brazil, Dukey is now voiced by Trevor Devall.