"Johnny, wait!" – Susan

This page is incomplete!
"Oh my gosh!, this page is bad" – Dukey

This page is a stub. It needs to be expanded immediatley!
This is a list of people who contributed to non-English language dubs of the animated series "Johnny Test", created by Scott Fellows. The cartoon was dubbed in various different languages such as Italian, German, Russian, French and more.
French
German
Johnny: Julius Jellinek 
Dukey: Detlef Bierstedt 
Susan: Tanja Schmitz 
Mary: Anne Helm 
Hugh: Stefan Staudinger 
Lila: Andrea Aust 
Bling-Bling-Boy: Jesco Wirthgen 
Gil: Sebastian Schulz 
Mr. Black: Tilo Schmitz 
Mr. White: Tobias Kluckert 
General: Axel Lutter 
Russian
Turkish
Dutch
Italian
Johnny: Renato Novara
Dukey: Diego Sabre
Spanish
European Spanish:
Latin American Spanish:
Portuguese
Chinese
Hindi
Korean
Swedish
Finnish
Norwegian
Romanian
Japanese
The japanese version was released in Netflix of Japan on September 1st, 2015.[1] [2]
Johnny: Yū Mizushima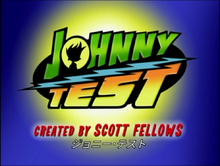 Dukey: Yoku Shioya
Susan: Airi Otsu
Mary: Sato Amina
Hugh: Kazuhiko Inoue
Lila: Kikuko Inoue
Sissy: Yurika Aizawa
Mr. Black:
Mr. White:
Bling-Bling-Boy: Hironori Kondo
Zizrar: Miyazaki Atsushikichi
Brain Freezer: Ryūsei Nakao
Ad blocker interference detected!
Wikia is a free-to-use site that makes money from advertising. We have a modified experience for viewers using ad blockers

Wikia is not accessible if you've made further modifications. Remove the custom ad blocker rule(s) and the page will load as expected.