Johnny vs. The Tickler
Talk

0
323pages on
this wiki
Johnny duels with Wacko's twin brother The Tickler when the Tickler targets Susan and Mary for elimination. To figure out how to stop him, Johnny seeks his old enemies for advice on how to become evil.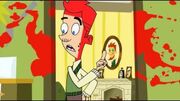 Running Gags:

Whenever Johnny goes to ask a villian for advice, he claims that he chose them first.
The Tickler is continually mistaken as Wacko in the episode..

We learn that Wacko has a twin brother named Tickler who seems to be jealous of Wacko, though it could actually be Wacko with his hair dyed red, since anyone can tickle.
This is the second time in the series that Susan and Mary feet became smaller; The first is Johnny Cruise.
Dark Vegan had 2 different helmets that he gave to Johnny and Dukey.
We learn that Albert is immune to tickling.
When Susan and Mary were being tickled, they were shown to be barefoot. After that, they're briefly shown with their shoes on, and a few seconds later they are barefoot again.