It's Easter, Johnny Test! is the second part of the 113th episode and the 226th episode over all. The episode premiered on April 9, 2014.
Synopsis
Porkbelly's Annual Easter Egg Hunt is sabotaged by Dark Vegan when he turns the festivities into a hunt for Johnny. On the other side, Johnny and Dukey want to win from Mary and Susan in egg hunting.
Plot
TBA
Trivia
This is an Easter Special, so the intro is styled like Easter.
This is the ninth special for the series and the only one revolving around Easter.
This episode aired before Gil-Stopping Johnny.
Goofs
Gallery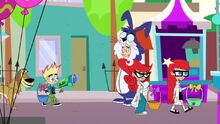 Ad blocker interference detected!
Wikia is a free-to-use site that makes money from advertising. We have a modified experience for viewers using ad blockers

Wikia is not accessible if you've made further modifications. Remove the custom ad blocker rule(s) and the page will load as expected.