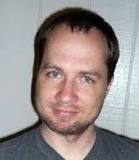 Chris Savino is an American animator. He has produced and directed Johnny Test for the first season.
Works
He is known for working on the following TV shows:
My Little Pony: Friendship is Magic
The Ren and Stimpy Show
Rocko's Modern Life
Hey Arnold!
Dexter's Laboratory
Cow and Chicken
Foe Paws
I Am Weasel
The Flintstones: On the Rocks
The Powerpuff Girls
The Grim Adventures of Billy and Mandy
Samurai Jack
Foster's Home for Imaginary Friends
Adventures in Milk
Bigfoot & Gray: On the Run
Mickey Mouse
Kick Buttowski: Suburban Daredevil
The Loud House (Creator)
Ad blocker interference detected!
Wikia is a free-to-use site that makes money from advertising. We have a modified experience for viewers using ad blockers

Wikia is not accessible if you've made further modifications. Remove the custom ad blocker rule(s) and the page will load as expected.